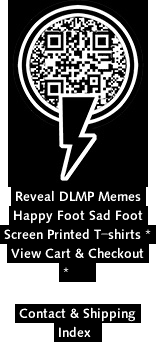 random choices for t-shirt designs, just pick the size and category. No guarantee of brand or print design. You can also pick a category, like political, music, hipster, rocker, stupid, crazy... Just the color and size will match your choice. This is like a grab bag for t-shirts, only we'll do the grabbing. No returns for this item.

We have just stocked out t-shirt bin with hundreds of designs that we have retired from out retail store, Y-Que Trading Post, in East Hollywood. Many of these designs are from the last year or two, some political t-shirts, humorous funny geek t shirts, stupid tee shirts and some dirty t-shirts that were dropped on the floor. Each shirt is just five bucks and you can dig deeper if you can't find the color or size you're looking for.

Many of these shirts are first quality, Hanes, Gildan, American Apparel, Alstyle or our own YQ Brand of cotton t shirts. The designs are the typical fare that we sell in our eclectic store and we just want these things to get in your closet before it starts getting hot again. Why wash clothes when you can buy random t-shirts from us for $5/ea.





(c) Copyright 2023, All Rights Reserved.