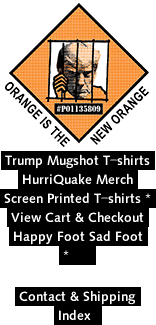 Known as the Godfather of Soul, Brown was honored last month at the Kennedy Center as
"one of the most influential musicians of the past 50 years."

Will he ever stop?! We made this James Brown T-shirt years ago when he first made it into the headlines, and our hearts. It was a good investment, because he's back in the limelight again.

Whether you're buying this shirt to support James Brown as a musician, to commemorate his 1988 drug arrest, or to vie for his current liberation, it will serve it's purpose well. Free James Brown!!

Go here to see James Brown and other designs on different color shirts.





(c) Copyright 2023, All Rights Reserved.