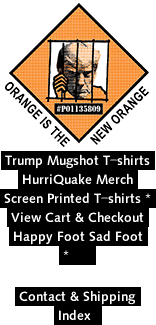 "It's a cold, indifferent, mechanical universe!" I kindly yelled through the backseat window of the Everything Is Horrible Car to an elderly man asking why it says that. We were at a gas station in Bakersfield, CA when I first defended why I spray painted my friend's car with such a seemingly onerous message. Now, you too, can boast your metaphysical understanding of the nature of reality from absurdism to nihilism with your very own Everything Is Horrible Car T-Shirt. Friendly vandalism not your bag? Afraid of the possible legal repercussions but still want people to know where you stand? The Everything Is Horrible Car T-shirt is your answer to advocating painful truths with elegance that sandwich boards lack.

The shirt that we print this design on is the Next Level 3600 fitted t-shirts and the Next Level 3300L t-shirts for women. If you want a different t-shirt please specify the t-shirt brand, color and style number in the comments section when checking out. Youth sizes are only available in White, Black Heather Grey, Midnight Navy, Red, and Turquoise.





(c) Copyright 2023, All Rights Reserved.